A Peer Learning Group for Botanic Garden and Arboretum Education Professionals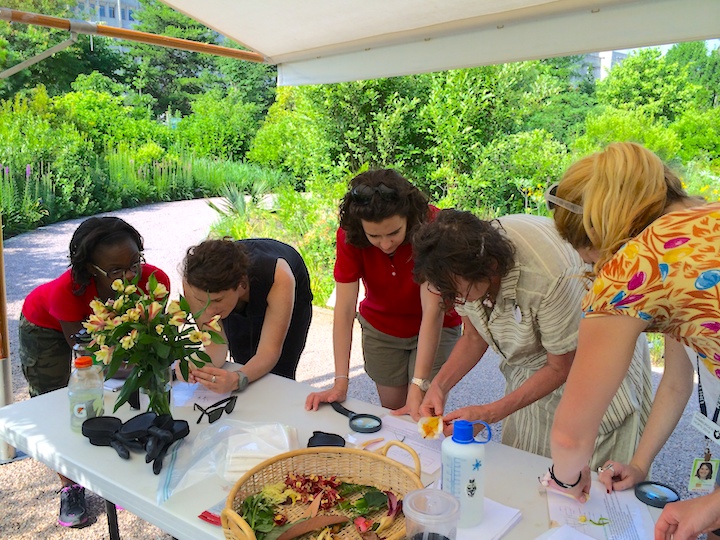 Climate change is a major global challenge impacting plants—from the food we eat to the trees that cool our communities. At the same time, plants play a central role in many solutions that scientists and communities around the world are using to address climate change. Educating public audiences about the connection between plants and climate change can help cultivate scientifically-informed understandings of the importance of plants in the context of our changing world.
Given their unique resources, including diverse living collections, plant scientists and research networks, and plant science educators and communicators, botanic gardens and arboreta have rich potential to engage the public with climate change through the lens of plants.
The U.S. Botanic Garden (USBG) has assembled a cohort of peer institutions interested in exploring how botanic gardens and arboreta can maximize the impact of a plant-centered climate change education niche. This peer learning group, Plants and Climate Change Education (PLACCE), is dedicated to learning together; creating and testing plant-centered climate change education models; and sharing new understandings, resources, and best practices across the public gardens community.
Partipants and their projects include:
Hoyt Arboretum - Portland, OR
Hoyt Arboretum plants to develop, implement, evaluate, and share a multi-visit curriculum for middle school students to investigate the connection between climate change and a locally important tree species. Through the curriculum, students will observe seasonal changes, learn about tree physiology, practice tree identification, and engage in activities and discussions about how global changes are impacting Earth's climate and how scientists are tracking these changes in plants and trees.
Lyon Arboretum - Honolulu, HI
Lyon Arboretum plans to develop, implement, evaluate, and share a comprehensive program for all ages addressing climate change and its effects on Hawaiʻi's endangered endemic plants. Participants in the program will become familiar with Hawaiʻi's endangered endemic plants and threats to their survival caused by climate change. They will also have opportunities to participate in climate change mitigation activities, informed by indigenous Hawaiian practices.
Naples Botanical Garden - Naples, FL
Naples Botanical Garden plans to develop, implement, evaluate, and share a cohort program that engages high school students in plant-centered climate change learning through citizen science, service-learning, and climate change mitigation and adaptation with plants. Through the program, students will monitor climate change impacts on plants in their community, collect seeds onsite at the garden for restoration projects and seed banking, and assist in community-based planting projects.
Reiman Gardens - Ames, IA
Reiman Gardens plans to develop, implement, evaluate, and share a science communication training program for scientists and researchers to communicate active, local plant-centered climate change research to a general public audience. Through the program, scientists will create hands-on and/or virtual activities to engage youth and adult audiences at a variety of venues, such as Meet-a-Scientist events, science fairs, lectures, and classes.
UC-Davis Arboretum and Public Garden - Davis, CA
UC-Davis Arboretum and Public Garden plans to develop, implement, evaluate, and share a climate-ready gardening program to extend climate adaptation planning to a public audience. The program will include the development of an online climate-ready gardening toolkit, trainings for student leaders and Master Gardener volunteers to share information with the public about climate-ready gardening, and a climate-ready gardening public program series.
United States Botanic Garden - Washington, DC
The United States Botanic Garden plans to develop, implement, evaluate, and share a model for a program series for science-interested adults in which plant science researchers and those enacting research-based, plant-centered climate change initiatives in their communities engage in conversational interviews with our Garden's leadership. Participants will have the opportunity to engage with climate change research in a lively, social setting while also learning about how science and hope can inform the public.