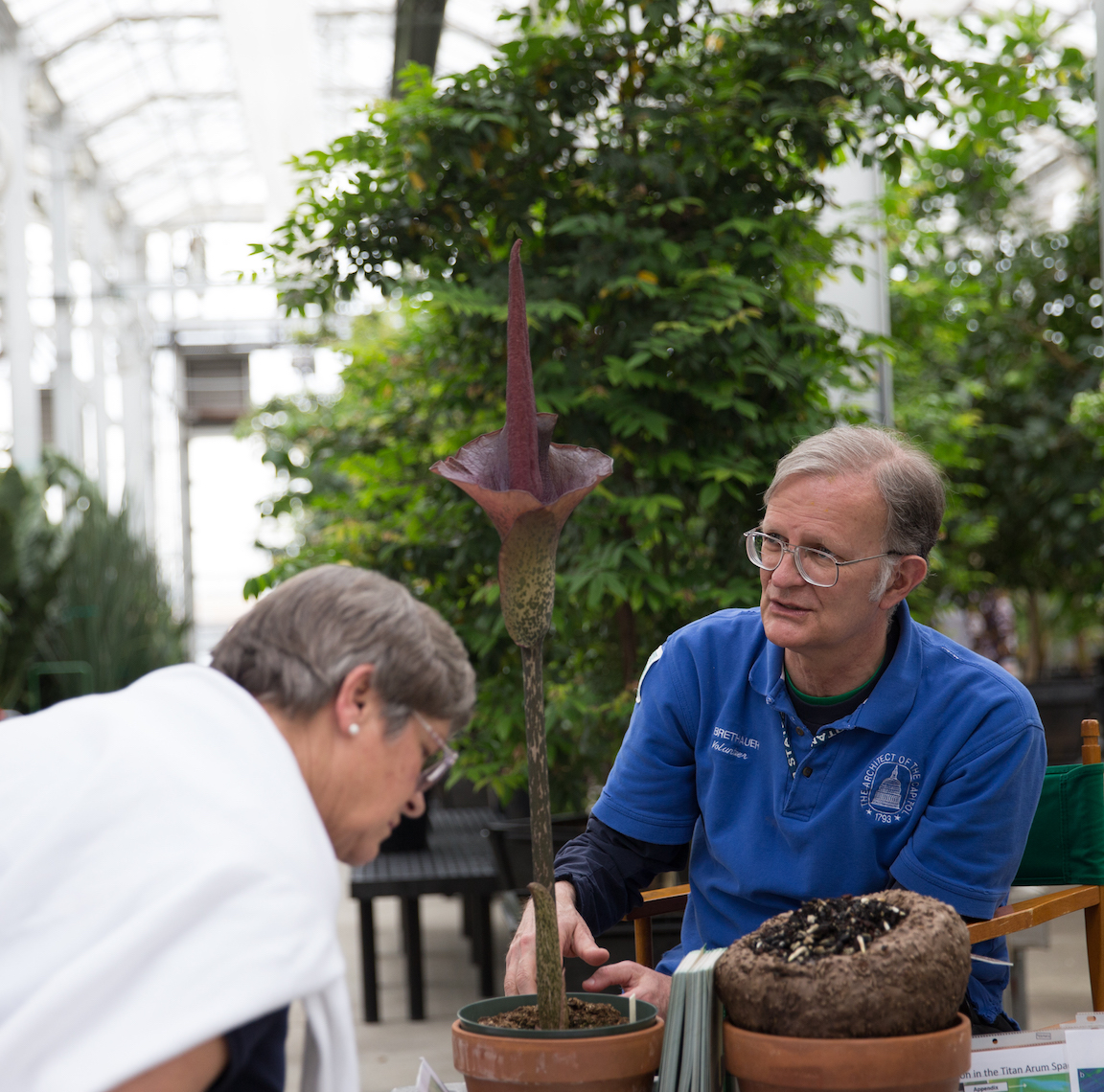 U.S. Botanic Garden volunteers have a common sense of purpose in identifying with the Garden's mission of demonstrating the aesthetic, cultural, ecological, economic, and therapeutic importance of plants to humankind. Have you ever wondered how you could be part of the experience?
Through their time at the Garden, volunteers develop new skills, explore their personal interests, and make significant contributions that enable the Garden to fulfill its mission. Volunteering is a great way to meet others and connect with the community.

Below are some examples of potential volunteer opportunities at the U.S. Botanic Garden. Each opportunity description includes primary volunteer location, responsibilities, qualifications, time commitment, and a description of training provided. Please note that our needs change over time, so we may or may not be recruiting for these opportunities when you apply.
Volunteers must be 18 years of age. Please note that there is no volunteer parking available at the Garden. We recommend public transit for volunteers.
To learn more about volunteering at the U.S. Botanic Garden, please review our Volunteer Program Frequently Asked Questions. You may contact Elizabeth Barton, USBG Volunteer Coordinator, with any questions by email (Elizabeth.Barton@aoc.gov).
Volunteer Program Frequently Asked Questions
VOLUNTEER APPLICATION PROCESS
The U.S. Botanic Garden is accepting volunteer applications, with responses typically sent within 2 weeks from application. Please click through to review current opportunities and submit an application.
After application review, potential new volunteers will be scheduled for a trial volunteer shift(s). Upon completion of trial shifts, volunteer applicants will be notified about the status of their application. Volunteers selected for positions that require additional training, the volunteer coordinator will share available training dates and times.