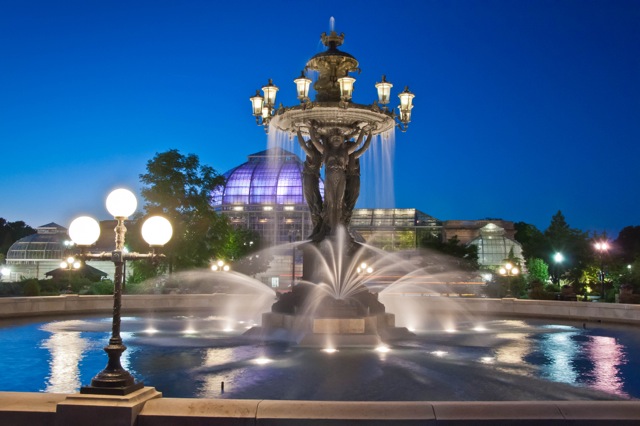 Just across Independence Avenue from the U.S. Botanic Garden Conservatory is a favorite "secret" garden of many Washingtonians. Bartholdi Gardens demonstrate a variety of sustainable features such as rain gardens, reuse of onsite materials, native plants, and locally-sourced furniture. Through the use of sustainable design and practices, gardeners and homeowners can make a positive impact on the environment and their community.
Part of the U.S. Botanic Garden campus since 1932 when it was created, Bartholdi Fountain and Gardens is a two-acre garden that showcases innovative plant combinations in a variety of styles and design themes.
In warm weather, enjoy the centerpiece of the Gardens, the Fountain of Light and Water, commonly called the Bartholdi Fountain in homage to its creator Frederic Auguste Bartholdi. The surrounding garden was renamed in Bartholdi's honor in 1985. The cast-iron fountain weighs more than 15 tons and stands 30 feet tall. The lights surrounding its basin are illuminated at night.
Bartholdi Gardens is a refuge from the stresses of the city. A variety of benches, tables, and chairs offer shade in the summer and sheltered sunlight in the winter. The Kitchen Garden shows food cultivation in an urban environment. Be it a large backyard or a small patch of ground, a balcony, or just a sunny apartment window, edible plants can be grown to use for home cooking.
Originally, the beds in the garden were geometrically arranged and planted in formal classical style to feature the fountain and to accommodate public gatherings. Bartholdi Fountain and Gardens were redesigned in 2016 as a Sustainable SITES Initiative™ pilot project, to include different garden styles and plant options that all can be achieved using SITES guidelines. Each demonstration area is a synergistic solution for dynamic and holistic systems that can be translated for the home gardener, helping improve garden design and maintenance practices nationwide.