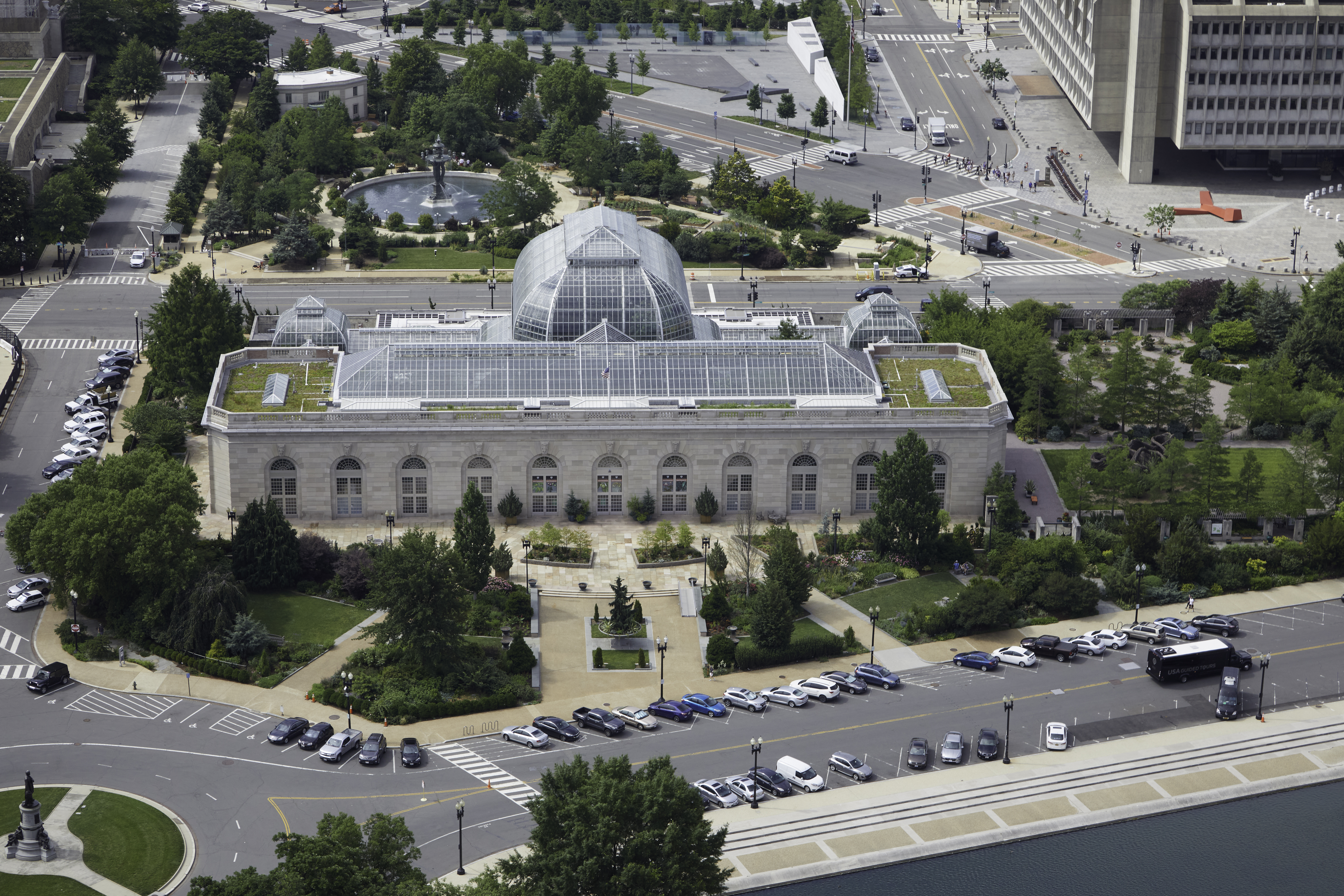 Plants appeal to the senses — visitors of all ages are captivated by the sights, smells, sounds, and textures that surround them in our Conservatory.
The U.S. Botanic Garden is a museum with living treasures of the plant world. The towering leaves, graceful flowers, delicate seeds, and exotic fruits of plants at their peak are displayed artfully throughout the historic Conservatory.
You will find a world of plants and environments in our permanent exhibits and gardens:
Garden Court: The colorful foliage, flowers, and pools create a beautiful setting to feature economic and ethnobotanical plants used in products that provide our fibers, food, beverages, clothing, shelter, fuel, cosmetics, and more, nourishing and protecting us.
The Tropics: A tropical forest, with a dome that rises to 93 feet and a raised mezzanine level from which to view the forest canopy. Tropical forests are a vital ecosystem on the Earth—providing food, regulating climate, influencing hydrological cycles, sequestering carbon, and supporting more biodiversity than any other habitat.
Plant Adaptations: Plants have evolved to live in various ecosystems. This house shows some of the fascinating adaptations that plants have developed.
Primeval Garden: Transporting us back 150 million years, this garden represents a glimpse of the world before flowering plants dominated the landscape.
Hawaii: A collection plants native to Hawaii. Because of geographic isolation, plant life on Hawaii evolved into a unique flora.
World Deserts: Filled with cacti, succulents, and other desert plants, this house show how plants in the deserts of the world have adapted to extreme aridity in a variety of ways.
Medicinal Plants: People have used plants in medicinal remedies for thousands of years. Today, scientists continue to build upon and incorporate traditional knowledge of plant-based compounds into modern medicine. This house displays a collection of medicinal plants from around the world.
Orchids: Orchids, with their fascinating diversity of smells, shapes, colors, and pollinators help many visitors fall in love with plants. This house showcases an ever-blooming, ever-changing display of these engaging plants. The USBG orchid collection numbers about 3,000 specimens, with hundreds on display at any given time.
Mediterranean: Mediterranean climates, found in five areas around the world, provide many familiar fruits and other foods in our diet. Explore the plants, culture, and food of the world's Mediterranean climatic regions.
Plant Conservation: The U.S. Botanic Garden, in cooperation with other organizations, actively participates in the conservation of rare plants to ensure their survival. This house showcases conservation stories of rare, threatened, or endangered plants.
Southern Exposure: Gardeners can take advantage of growing conditions influenced by heat-trapping topography, surrounding buildings, and masses such as concrete or rock. This outdoor micro-climate shows plants normally found in climates further south than D.C. **Open Spring-Fall.**
Children's Garden: Children along with their families explore nature, especially plants, through play and sensory experiences. **Open Spring-Fall.**
West Gallery and East Gallery: Host to changing exhibits designed to delight, educate, and inspire visitors.
Explore plants from our Rare and Endangered plants collection
Conservatory Map